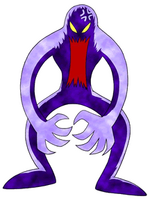 Zakennas
(

ザケンナー

Zakennā

?

)
 are the demonic underlings of the
Dotsuku Zone
. They are used by the commanders of the Dotsuku Zone to attack Pretty Cure and wreak havoc while in the Garden of Rainbows.
Their normal forms are large, shadowy faces with a large, throbbing temple. Because they have no actual physical form, they can easily shape-shift and take control of ordinary objects in the Garden of Rainbows, instantly doubling their destructive force. Zakennas are also able to take control of humans, though this is rarely seen. The name Zakenna comes from a really bad Japanese curse "zakennayo".
Every Zakenna who is defeated by the Pretty Cure turn into many small zakenna stars and run away while saying "Sorry". Translated as "Gomen'na" in Japanese. The picture of a zakenna star is below a Zakenna concept for Max Heart
Butler Zakennas
Butler Zakennas
(

執事ザケンナー

Shitsuji Zakennā

?

)
 are servants and also butlers which come from Dotsuku Zone.
They aren't dangerous, but careful. They care about Hikaru, and trust him. They are always handy, and if they see an emergency they get in action. In one episode, when Hikaru was thinking about Hikari, and didn't speak to them, they kept buying for him to keep him happy.FwPCMH22
They have a sense of humor to entertain people, as Hikaru. The short one, can clean, and always wears a blue cap. The tall one, can clean, and can make people happy. 
In both Seasons that they appear in, their arguing often annoys the residents of the mansion, with them often being very scared of their master's wrath, in particular Regine from the first season, who screams at them often. Belzei Gertrude is often a bit more lenient with them, and Juna is just harsh on them, showing zero mercy for their mistakes. In the second season, they are usually yelled at for their incompetence that often may be dangerous to the boy in the mansion, Hikaru, whom they are often tasked with caring for whilst the four guardians plot to destroy Pretty Cure and Shiny Luminous. Circulas often will scold them, talking sternly to them, whereas Uraganos just goes into a blind rage, and Viblis, like Regine did, simply screams at them. Baldez has almost zero interaction with them, as unlike his predecessor Belzei Gertrude, he is off focusing on the links between the energies of light and dark. 
The taller Zakenna is voiced by Taki Satoshi (滝知史, Taki Satoshi?), while the shorter one is voiced by Komatsu Rika (小松里歌, Komatsu Rika?).
Episode
Appearance
Image
Possessing
Summoned by
Defeated with
FwPC01
Roller Coaster
Pisard
Marble Screw
FwPC02
Vacuum Cleaner
Pisard
Marble Screw
FwPC03




Basketballs, Gym Mats and Curtain

Pisard
Marble Screw
FwPC04
Statues and paintings, objects in paintings (Art Museum)
Pisard
Marble Screw
FwPC06
Bear
Gekidrago(off-screen)
Rainbow Therapy
FwPC07
Assistant Principal
Gekidrago
Marble Screw
FwPC08
Fusion with Gekidrago and Tree
Gekidrago(off-screen)
Marble Screw
FwPC09
Human Body Model
Gekidrago
Marble Screw
FwPC11
Aquarium Animals

and Fusion of Gekidrago with Shark, Manta Ray and Moray Eel

Gekidrago(Aquarium Animals off-screen)

(Fusion on screen)

Marble Screw
FwPC12
Crowd
Poisony
Rainbow Therapy
FwPC13
Honoka's Science Fair Diagram
Poisony
Marble Screw
FwPC14
Wrecking Ball and Excavator
Poisony
Marble Screw
FwPC15
Samurai Armors
Poisony
Rainbow Therapy
FwPC16
A Girl's Shadow
Poisony
Marble Screw
FwPC17
Earthworm and Centipede
Poisony(earthworm on screen)

(Centipede off-screen)

Marble Screw
FwPC22
Star Projector and Scorpius and Serpent Constellation Models
Ilkubo(off-screen)
Marble Screw
FwPC25
Fusion of Ilkubo-Zakenna
Ilkubo and The Dark King(off-screen)
Dark King's Power
FwPC28
Mannequins
Regine(off-screen)
Burst of Regine's Energy
FwPC29
Electric Meter
Belzei Gertrude
Marble Screw
FwPC31
Trucks
Juna
Rainbow Storm
FwPC32
Brontosaurus Statue at Theme Park
Regine(off-screen)
Rainbow Storm
FwPC34
Piano
Regine
Rainbow Storm
FwPC35
Chestnuts
Juna(off-screen)
Marble Screw
FwPC37
Knight Costumes from Verone's Romeo & Juliet Production
Juna(off-screen)
Rainbow Storm
FwPC38
Computers
Regine
Rainbow Storm
FwPC42
Tornado, train and unknown
Juna (Tornado on screen) Juna Regine

(Train and Unknown off-screen)

Rainbow Storm(Off Screen)
FwPC44
Snowman
Belzei Gertrude(off-screen 1st time)

(On Screen 2nd time)

Rainbow Storm
Futari Wa Pretty Cure Max Heart
FwPCMH01
Traffic Lights and Road Signs
Remaining Dusk Zone Energy
Marble Screw Max
FwPCMH02
Rocks
Circulas
Marble Screw Max
FwPCMH03
Rose with Bushes
Circulas(off-screen)
Marble Screw Max
FwPCMH04
Statue of a Rooster
Circulas(off-screen)
Extreme Luminario
FwPCMH06
Octopus
Uraganos(off-screen)
Extreme Luminario
FwPCMH07
Objects from a Baseball Field
Uraganos(off-screen)
Marble Screw Max
FwPCMH09
Escalator
Viblis(off-screen)
Marble Screw Max
FwPCMH10
Oven
Viblis(off-screen)
Extreme Luminario
FwPCMH11
Electrical Transformer Tower
Viblis
Extreme Luminario
FwPCMH12
Barn, Silo and Hay Bales
Baldez
Marble Screw Max
FwPCMH13
Bridge
Circulas
Marble Screw Max
FwPCMH14
Statue from Outside the Stadium
Circulas
Marble Screw Max
FwPCMH16
Statue of Tomorrow
Uraganos(off-screen)
Marble Screw Max
FwPCMH17
Garbage
Uraganos(off-screen)
Extreme Luminario
FwPCMH18
Garbage and Pollution
Uraganos
Extreme Luminario
FwPCMH19
Crystal Hall from Verone Academy
Circulas(off-screen)
Extreme Luminario
FwPCMH20
Log Cabin
Viblis
Extreme Luminario
FwPCMH24
Bus
Uraganos
Marble Screw Max Sparkle
FwPCMH25
Pond
Viblis
Marble Screw Max Sparkle(off-screen)
FwPCMH26
Lantern, Festival Decorations and Candles
Viblis
Marble Screw Max Sparkle
FwPCMH27
Tractor
Viblis
Extreme Luminario
FwPCMH28
Cicada
Circulas
Marble Screw Max Sparkle
FwPCMH29
Park Playground
Uraganos
Marble Screw Max Sparkle
FwPCMH31
Football Players
Uraganos
Circulas
Viblis
Extreme Luminario
FwPCMH32
Fire from Barbecue
Viblis
Extreme Luminario
FwPCMH33
Soccer Ball Dispenser and Soccer balls
Uraganos
Extreme Luminario
FwPCMH34
Toad Costume
Uraganos
Marble Screw Max Sparkle
FwPCMH35
Tiger
Uraganos
Marble Screw Max Sparkle
FwPCMH36
Park Swing
Viblis
Marble Screw Max Sparkle
FwPCMH37
Crow Masks, Costumes and Crow Tengu
Uraganos
Extreme Luminario
FwPCMH38
Pipes
Circulas
Marble Screw Max Sparkle
FwPCMH39
Nagisa's and Verone Girl's Lacrosse Equipment
Circulas
Extreme Luminario
FwPCMH41
Lights from the Stadium
Baldez
Extreme Luminario
FwPCMH42
Icicles and Ice on the Ground
Baldez Uraganos

(off-screen)

Marble Screw Max Sparkle
FwPCMH43
School objects
Viblis(off-screen)
Marble Screw Max Sparkle
FwPCMH44
Dried Leaves
Circulas
Marble Screw Max Sparkle
Movie
Bats
Dark Witch
Unknown
Movie
Snowman
Freezen & Frozen
Marble Screw Max
Movie
Collapsed Entrance
Freezen & Frozen
Unknown
PCAS DX
Plane
Fusion(off-screen)
Unknown
PCAS DX3
Dinosaur
Unknown
Unknown
Gallery