Yuunagi Middle School (夕凪中学校, Yūnagi Chūgakkō?) is the school that the Cures in Futari wa Pretty Cure Splash Star go to. Just like L'École des Cinq Lumières of the Yes! Pretty Cure 5 and Yes! Pretty Cure 5 GoGo!, the school is built on a hill. The building is quite modern looking. The school is facing the sea and has a roof top balcony.
Uniform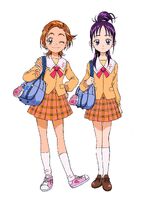 The girls uniform consists of a pale tawny jumper with a white collar fastened with a rose-colored ribbon. The skirt is checkered and the socks are white and knee length with optional flat shoes. The boys uniform has a white shirt with a pale tawny blazer. The bottoms are grey trousers with optional flat shoes. Both uniforms have the letter y with a small heart on the breast pocket.
Extra Curricular Activities
Extra Curricular activities are not shown much. Saki, Hitomi and Outa are in the Softball club. Mai and Ayono are in the Art Club. Kenta tried to make a comedy club with no avail. There is also a student council.
Notable Students
Notable Staff
References
Ad blocker interference detected!
Wikia is a free-to-use site that makes money from advertising. We have a modified experience for viewers using ad blockers

Wikia is not accessible if you've made further modifications. Remove the custom ad blocker rule(s) and the page will load as expected.