Verone Academy (ベローネ学院, Berōne Gakuin?) (or Verone Junior High in the English dub), is a school in Futari wa Pretty Cure and Futari wa Pretty Cure Max Heart. It is the school which Nagisa, Honoka and Hikari go to.
The school consists of two buildings with one building for educating the girls and the other for the boys. The school has many extra curricular activities including a Lacrosse Club which Nagisa attended and became the captain of in Futari wa Pretty Cure Max Heart. Also a Science Club which Honoka attends and becomes president of in the sequel. The school has many extra-curricular clubs including a football club which Shougo Fujimura and Kimata attend.
Uniform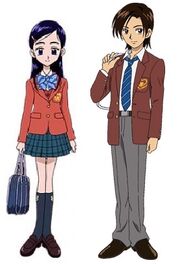 The uniform consists of a red blazer and white shirt. The shirt is adorned by a striped blue bow-tie for girls or a necktie for boys. For girls the bottom is a teal checkered skirt, for boys the bottom is teal or gray trousers. The girls wear white knee length socks and brown shoes. In winter the students wear a gray coat.
Notable Students
Girls
Boys
Notable Staff
Trivia
Gallery
Ad blocker interference detected!
Wikia is a free-to-use site that makes money from advertising. We have a modified experience for viewers using ad blockers

Wikia is not accessible if you've made further modifications. Remove the custom ad blocker rule(s) and the page will load as expected.