Hello, I'm Himawari hana, please call me Hima-chan! Okay, my hobbies are playing compu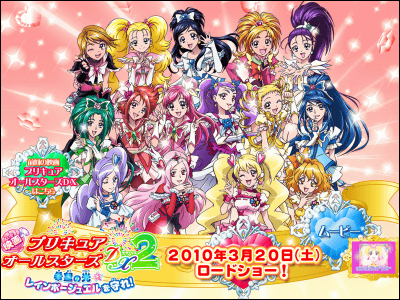 ter, playing games, reading and swimming. And I like manga and anime, snacks, books, aminals, bugs and games. But, I dislike novels, soap opera and private course. I am fan of Pretty Cure (PC), Tokyo Mew Mew (TMM), and Youkai Navi Runa.
I have watched Pretty Cure since the first season. And Cures I like most:
Cure Blossom: Because her seiyuu is my favorite.
Cure Marine: Because her theme color is my favorite.
Cure Sunshine: Because her theme flower is my favorite.
Cure Melody: I like because of her characteristic.
Cure Beat: I love her action, including saving Hummy.
Cure Muse: I'm waiting for your appearance! I love your masked form also your true form!
Cure Beauty: I like her formal words and her appearance.
Okay, I think later I want to editing my account again. See you!
My profileEdit
Birthdate: September 6
Zodiac: Virgo
Blood Type: O
Favorite color: Blue
Hobby: Reading, making my own comics, playing Nintendo DS game, playing internets
My wish: I want to come to Japan with my older brother and I wish to be professional comic writer in Japan!
Anime I like: Pretty Cure series, Mega Man Star Force, Hoshi no Kirby (original series, not the dub), Persona 4 The Animaton (my brother have played the game version)
Manga I like: Shokora no Mahou, Takoyaki Princess (both by Rino Mizuho), Youkai Navi Runa (by Michiyo Kikuta and Miyoko Ikeda), Mega Man X-X4 (by Yoshihiro Iwamoto) Mega Man Star Force (by Masaya Itagaki), Tokyo Mew Mew and Tokyo Mew Mew Ala Mode (by Mia Ikumi and Reiko Yoshida)
Super Sentai that I like: Flashman, Jetman, Kakuranger, Megaranger, GoGo V, Timeranger, Gaoranger, Hurricanger, Magiranger, Boukenger, Gekiranger, Gokaiger
Super Sentai that I currently watch: Carranger (Ep.1), Magiranger (Ep.1-2, 22), Boukenger (Ep.1), Gekiranger (Ep.1-10, currently downloading other episodes from torrent), Shinkenger (Ep.1-5), Gokaiger (Ep.4, 8 10-14, 17-29, 33-36, 38-39, 199 Heroes, Movie), Go-Busters (Ep.37)
Game I like: Kirby series (playing Canvas Curse, Squeak Squad, Mass Attack and watching Return to Dream Land), Harvest Moon series (the only one appears in NDS), Rune Factory series, Mega Man X series and Mega Man Star Force series, Happy Bakery, Xenosaga series, Mario series (currently only Mario Hoops 3-on-3, Mario Kart DS and Mario Party DS), Final Fantasy series (my brother plays FFX and FFXII, I'm watching FFIII DS and PSP and playing a little about FFV Advance in my cousin's GBA)
Online Game I like (only like, I didn't play either one of them): Pangya Online, Emil Chronicle Online, Luna Online, Master of Fantasy Online, Crazy Kart Online, DOMO Online, Grand Chase Online, and others with cute character graphic.
The worst Novel: Animorphs (don't show me the covers of these books, please! I'm very phobia to these)
My suggestion to Pretty CuresEdit
Okay, start from the first season, then!
Futari wa Pretty Cure: I have watching them on my country since this season! Gr

My favorite Cures as of 2011 (before earthquake)

eat though, but I don't think they must transform together. For the Cures, I like Black and White but kinda weird. For the villain, I like Regine.
Futari wa Pretty Cure Max Heart: This is the second season I have watch on TV. A little strange, the transformation is totally WEIRD. For the Cures this season, from Black and White becomes Shiny Luminous, ganbatte!
Futari wa Pretty Cure Splash Star: I have never watch this, so I don't know much. IT'S ALL WEIRD! TRANSFORMATION, CHARACTER, ALL!

Cure Muse's true form

Yes! Pretty Cure 5: Himitsu Sentai Goranger remake? No! Not Goranger! Anyway, this is all like GORANGER! Again, I've never watch it on TV because my country don't want to broadcast this season.
Yes! Pretty Cure 5 GoGo!: Nah, nah? GoGo V remake? Unfortunately not. I like Aqua because the clothes. Oh, some months ago, I found this anime is interesting, including the music! Currently, I'm watching Episode 9, 16, 18, 19, 21 and 22 one in my laptop! Looking forward for the next favorite episode for me! Thank you, Doremi Fansubs!
Fresh Pretty Cure!: This is more interesting! From 3 Cures, midway to 4! Amazing! Before Passion appears, I want to let Miyuki to be Pretty Cure, really! But, Setsuna wins, isohihasihfshfuidhtuen ToT. But anyway. This is the first season I start to saw the screencaps in dec.2chan (december?).
Heartcatch Pretty Cure!: Very interesting! I drastically loves Blossom (because her seiyuu, Nana Mizuki is my favorite), Marine (her theme color is my favorite) and Sunshine (her theme flower, sunflower is my favorite)! But I dislike Flower and Dark Pretty Cure (pret >o<!). Again, from 2 Cures, midway to 4!
Suite Pretty Cure: I drastically loves Cure Melody even I dislike pink! I dislike Hibiki and Kanade

Cure Melody

Added by

OCcreator14

transform together first, how about Hibiki transform first before the later episode is Kanade? Anyway, I've waiting for you for your true form, Cure Muse! I like Cure Melody's attack and currently watching Episode 12 and 16. The failed Passionate Harmony in Episode 5 makes me laugh! I dislike Siren but I'm TOTALLY agree that she is Cure Beat and I love her after Melody and Muse.
Smile Pretty Cure: I like Cure Happy, Cure Peace and the most: Cure Beauty. I'm watching Episode 1, 3, 5, 8-9, 11-16, and 19. And I want to download Episode 20 and another Episode featuring Miyuki, Yayoi or Reika and the episode I found very interesting in my collection! Oh, I also downloading the song and some soundtracks too! For Cure March, I prefer her being purple rather than green.
DokiDoki! Pretty Cure: I like the three main Cures: Cure Diamond at first, Cure Heart and then Cure Rosetta. I'm looking forward for Diamond Rosetta and Sword's Transformation, Roll Call and Attacks (though Sword already has her attack sequence)!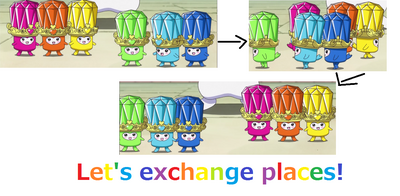 Also, check this link, ok?
http://himawarimawari.blogspot.com/
http://himawari-mawari.livejournal.com/
My Own Gallery!
Edit