Hi. The Names CureHope
Edit
Hello. I'm CureHope. I named Myself "CureHope" to dedicate to my favorite Precure, Cure Dream.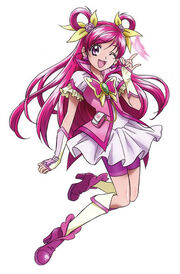 Because she's the lead of my favorite Precure series, doing her best, she's funny, has my favorite color pink,she has sympathy and go along with her friends and most importantly, her romantic relationship with Coco, hehe (see the Romance Page under here). I also like her evil copy, Dark Dream. Fine, if you disagree if i like her, SORRY. She maybe evil from the beginning, but became good person in the end. Cure Dream gave mercy in her and gave her a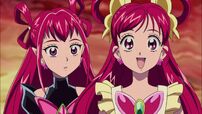 chance so she could become her friend like she became friends with the Precure (get what i mean.) I like her hairstyle, face and clothes. What. Sorry if i like her, she seems pretty. Sorry!
I like Disney Channel and Cartoon Network. I love actions, adventure, comedy and (fictional and cartoon) Romance. I like some boys tv show and heres what my favorite boy shows: Randy Cunningham: Ninth Grade Ninja: don't like the bad phrases, bad school social life and stupidity but i like the parts where Randy learns the virtues by his destiny and understands responsibility. I love Danny Phantom. I like the adventures and his powers.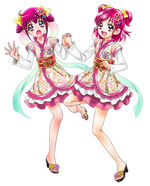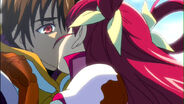 I like to be a songwriter in the future, but how do i become one. Sometimes a melody comes from my voice and i try to make music but never write and forget later. Ever since I watched Precure Heartcatch!, I grew an interest in the beauty of flowers. I have a good memory to remember combination and passwords, but sometimes but not good enough to remember names sometimes. Oh yeah, i believe i have bad grammering. Sometimes its correct, but i think i'm not good enough. I have inferiority complex, a feeling of uselessness and failure. I feel not sophistacated at school for my grammer and how smart i am. I sometimes cry at school. And many people are worried for me and would do all their power for me, now i feel guilty. Please don't feel sorry for me. I hope I'll be okay. 
Romance Page. Hehe.
Edit
I know. Pretty embarrising, but i'm just a Romance Fan. Here's my list of top
Yumehara Nozomi X Coco
Misumi Nagisa X Shougu Fujimura
Hyuuga Saki X

Mishou Kazuya

Momozono Love X Chinen Daisuke
​Well, This is the cutest couple i could think of. Of Course Nozomi and Coco are the tops if you agree with Me. Well, if anyone remembers my blog on the love, i was actually suggesting the Shipping Page like Pokemon or other wiki's if it is a good idea. Like list of episodes or evidents of romantic scenes or how the couple feel about each other. If you like the idea or not, add it in my talk page and if you like the shipping, i or someone could make a shipping (please). Everyone Wiki has one.
Favorite Cures
Edit
Top Cures
Cure Dream
Cure Beauty
Cure Happy
Cure Heart
Cure Passion
Cure White
Cure Black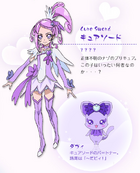 Second Place
Cure Sword
Cure Beat
Cure Moonlight
Cure Aqua
Cure Sunshine
Cure Rouge
Cure Marine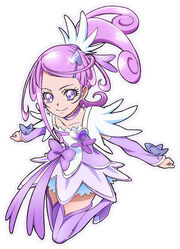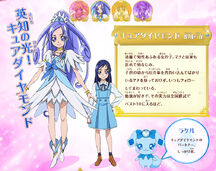 Third Place
Cure Diamond
Cure Peach
Cure Sunny
Cure Rhythm
Cure Blossom
Cure Rosetta
Fourth Place
Cure Melody
Cure Mint

Cure Melody

Added by

OCcreator14

Cure March

Cure Peace

Shiny Luminous
Cure Lemonade
Last Place/Less-favorite Cure
Cure Muse
Cure Egret/Windy
Cure Bloom/Bright
Cure Pine
Cure Berry
Milky Rose