The Right Way To Use Magic (正しい魔法の使い方, Tadashī Mahō no Tsukai Kata?) is the main theme song for the Mahou Tsukai Pretty Cure!: Kiseki no Henshin! Cure Mofurun! film. It is also used as the ending for episode 38 and episode 39 of Mahou Tsukai Pretty Cure!, temporarily replacing Magic Âla・Thanks!.
Lyrics
Short ver.
Don'na toki ni kono mahō tsukaeba ī?
Onegai
Rūru wo oshiete
Jibun no tame janaku soba no taisetsuna hito no tame ni
Himitsu no hōhō de
Kiseki wo okosu no

Dareka naiteru nara
Nanika dekiru kotonai kato
Sono te sashinobete

Sā ressun Kyuappu・RaPaPa
Sugu ni egao ni shite ageru
Kyuappu・RaPaPa
Omoi ga chikara ni naru yo

Mirakuru Raito futte yasashī kimochi de
Sotto mitsumetereba
Hohoemu wa
どんな時に この魔法使えばいい?
お願い
ルールを教えて
自分のためじゃなく そばの大切な人のために
秘密の方法で
奇跡を起こすの

誰か 泣いてるなら
何かできることないかと
その手 差し伸べて

さあレッスン キュアップ・ラパパ
すぐに笑顔にしてあげる
キュアップ・ラパパ
想いが力になるよ

ミラクルライト振って やさしい気持ちで
そっと見つめてれば
微笑むわ
When do you think is the best time to use magic properly?
Oh please
Teach me the rules I need to know
This is not for myself, but for the precious person close by to me
Give me a secret way
To bring about a miracle

If I find someone who is crying
I wouldn't know what I should do exactly
So I reached out to take her hand

Now the lesson is Cure Up・RaPaPa
You'll soon be granted smiles by me
Cure Up・RaPaPa
Your thoughts are what create this power

Wave the Miracle Light to create this gentle feeling
And stare at it gently
So we can smile
Character Appearances
Note: Names listed by order of appearance.
Audio
| No. | Title | Artist | Duration | Audio |
| --- | --- | --- | --- | --- |
| | | | | |
| --- | --- | --- | --- | --- |
| 1 | The Right Way To Use Magic (Short ver.) | Watanabe Mayu | 01:34 | |
Trivia
Videos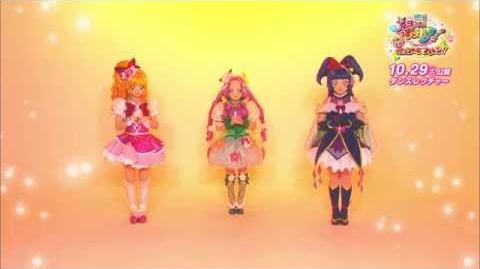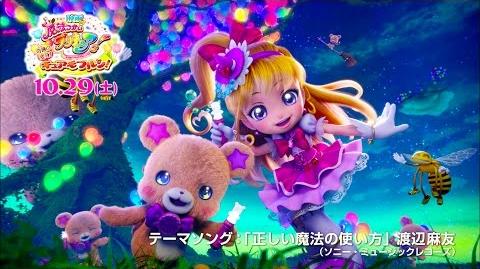 Ad blocker interference detected!
Wikia is a free-to-use site that makes money from advertising. We have a modified experience for viewers using ad blockers

Wikia is not accessible if you've made further modifications. Remove the custom ad blocker rule(s) and the page will load as expected.