Mofurun noticed that this article lacks content or has faulty grammar and information.
She says you can help by
editing
this stub!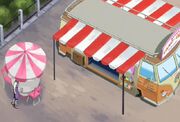 The
Tako Café
has takoyaki as the main food served. It is a ball shaped Japanese dumpling or more like a savory pancake made of batter and cooked in a special takoyaki pan. It is typically filled with diced or whole baby octopus, tempura scraps, pickled ginger, and green onion.
Futari wa Pretty Cure
Fujita Akane (renamed Alex in the English dub) owns and operates the takoyaki café. Honoka, Nagisa and their friends and often go to the Tako Café and are friends with Akane. When they are worried or are in trouble they also go to the café to talk to Akane. Rina and Shiho are often seen in the café.

Max Heart
During Futari wa Pretty Cure Max Heart, Hikari lives with Akane and starts working in the café.
Pretty Cure All Stars DX
In the first Pretty Cure All Stars DX movie, the girls of Yes! Pretty Cure 5 go to the Tako Café. Following a discussion of what would taste good on the takoyaki. When Urara says that maybe curry would taste good, Komachi comes with the idea to put sweet beans on it and Nozomi wants chocolate on it. Making Akane laugh, she says that they look just like Nagisa, Honoka, Shiho and Rina when they argue.
Gallery
Ad blocker interference detected!
Wikia is a free-to-use site that makes money from advertising. We have a modified experience for viewers using ad blockers

Wikia is not accessible if you've made further modifications. Remove the custom ad blocker rule(s) and the page will load as expected.