Mofurun noticed that this article lacks content or has faulty grammar and information.
She says you can help by
editing
this stub!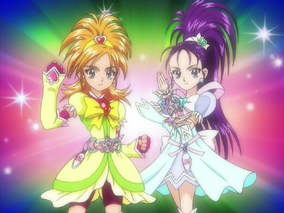 The
Spiral Rings
are a special item in
Futari wa Pretty Cure Splash Star
. They are obtained in
episode 24
from
Moop
&
Foop
.
The Spiral Rings are the items required to perform the attacks Spiral Heart Splash (as Bloom & Egret) and Spiral Star Splash (as Bright and Windy).
These items are very similar to the Rainbow Bracelets and the Sparkle Bracelets from the previous seasons.
Appearance
A pink heart attached to a white base with a smaller white decorative heart in the center. Saki's is worn like a belt, while Mai's is like a bracelet. Saki's is attached to a white ornament accented in gold and pink and held around her waist on a light pink band that has a single, pale blue circle attached to it on each side of the waist. Mai's has accented of white, pink, and gold with a small piece attached to it.
As Cure Bright & Cure Windy, the Spiral Rings gain a five-point star instead of a heart ornament.
Gallery
Ad blocker interference detected!
Wikia is a free-to-use site that makes money from advertising. We have a modified experience for viewers using ad blockers

Wikia is not accessible if you've made further modifications. Remove the custom ad blocker rule(s) and the page will load as expected.