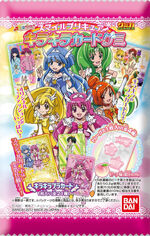 Here is a list of merchandise that has been produced for the Smile Pretty Cure! series.
Arcade Game Card Collections
Cure Dolls
Please refer to the main page Cure Dolls.
Cosplay Costumes
Please refer to the main page Cosplay Costumes for Kids.
Utensils
School Accessories
Keychains
Toys
Figures
CDs, DVDs & Blu-rays
Video Games
Others
External Links
Ad blocker interference detected!
Wikia is a free-to-use site that makes money from advertising. We have a modified experience for viewers using ad blockers

Wikia is not accessible if you've made further modifications. Remove the custom ad blocker rule(s) and the page will load as expected.