Smile Pretty Cure! Kirakira Card Gummy Card Collection
Comments

0
Share
Ad blocker interference detected!
Wikia is a free-to-use site that makes money from advertising. We have a modified experience for viewers using ad blockers

Wikia is not accessible if you've made further modifications. Remove the custom ad blocker rule(s) and the page will load as expected.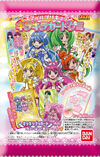 The Smile Pretty Cure! Kirakira Card Gummy Card Collection (スマイルプリキュア!キラキラカードグミコレクション, Sumairu purikyua! Kirakira kaado gumi korekushon?) is a series of special Character Cards that comes as a free gift with each packet of Kirakira Card Gummy. Each packet of Gummy comes with one random card, with a total of 21 different designs to be collected. All cards are printed on placards and decorated with shiny gold leaf. The collection was released late-January by BANDAI, and copyrighted by ABC Toei Animation.
Series
Cards

Cure Happy
Card Number: P01
Card Type: Heart
Model: Cure Happy
Description: Increases luck
Cure Sunny
Card Number: P02
Card Type: Star
Model: Cure Sunny
Description: Increases popularity

Cure Peace
Card Number: P03
Card Type: Ribbon
Model: Cure Peace
Description: Increases style

Cure March
Card Number: P04
Card Type: Musical Note
Model: Cure March
Description: Increases fun
Cure Beauty
Card Number: P05
Card Type: Heart
Model: Cure Beauty
Description: Increases luck
Hoshizora Miyuki
Card Number: P06
Card Type: Star
Model: Miyuki (school uniform)
Description: Increases popularity

Hino Akane
Card Number: P07
Card Type: Ribbon
Model: Akane (school uniform)
Description: Increases style
Kise Yayoi
Card Number: P08
Card Type: Musical Note
Model: Yayoi (school uniform)
Description: Increases fun

Midorikawa Nao
Card Number: P09
Card Type: Heart
Model: Nao (school uniform)
Description: Increases luck
Aoki Reika
Card Number: P10
Card Type: Star
Model: Reika (school uniform)
Description: Increases popularity

Cure Happy
Card Number: P11
Card Type: Ribbon
Model: Cure Happy
Description: Increases style
Cure Beauty & Cure Sunny
Card Number: P12
Card Type: Musical Note
Model: Cure Sunny & Cure Beauty
Description: Increases fun
Cure Peace & Cure March
Card Number: P13
Card Type: Heart
Model: Cure Peace & Cure March
Description: Increases luck

Hoshizora Miyuki
Card Number: P14
Card Type: Musical Note
Model: Miyuki
Description: Increases fun

Kise Yayoi & Hino Akane
Card Number: P15
Card Type: Star
Model: Akane & Yayoi
Description: Increases popularity
Aoki Reika & Midorikawa Nao
Card Number: P16
Card Type: Ribbon
Model: Nao & Reika
Description: Increases style

Aoki Reika & Hoshizora Miyuki & Kise Yayoi
Card Number: P17
Card Type: Heart
Model: Miyuki & Yayoi & Reika
Description: Increases luck

Hino Akane & Midorikawa Nao
Card Number: P18
Card Type: Star
Model: Akane & Nao
Description: Increases popularity

Everyone Gather
Card Number: P19
Card Type: Crown
Model: Cure Happy & Cure Sunny & Cure Peace & Cure March & Cure Beauty
Description: Increases special power
Cure Happy & Cure Peace & Cure Beauty
Card Number: P20
Card Type: Crown
Model: Cure Happy & Cure Peace & Cure Beauty
Description: Increases special power
Cure Happy & Candy
Card Number: P21
Card Type: Crown
Model: Cure Happy & Candy
Description: Increases special power
Gallery