Mofurun noticed that this article lacks content or has faulty grammar and information.
She says you can help by
editing
this stub!
Shining Circle (シャイニングサークル, Shainingu Sākuru?) is one of Cure Muse's attacks from Suite Pretty Cure♪. She calls forth Shiry and she creates a star around her enemy.
Description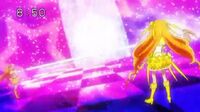 Cure Muse detaches the Cure Module on her chest and calls upon Shiry. Shiry lands on the space on the Cure Module and while playing a tune, Muse makes four projections of herself that surround the enemy. Extending the hand that holds the Module, the other projections do the same. A blue beam of light comes from the real Shiry's gem and connects the other four in a star seal that surrounds the enemy in the center. Calling out the attack name, white light comes from the center, trapping the enemy inside.
Incantation
Japanese
Cure Muse: おいで、シリー!
Shiry: シシー!
Cure Muse: シの音響のシャイニングメロディー。
Cure Muse: プリキュアシャイニングサークル!

Romanization
Cure Muse: Oide, Shirī!
Shiry: Shishi!
Cure Muse: Shi no onpu no shainingu merodī.
Cure Muse: Purikyua Shainingu Sākuru!

Literal Translation
Cure Muse: Come here, Shiry!
Shiry: Sisi!
Cure Muse: The Si note's shining melody.
Cure Muse: Pretty Cure Shining Circle!

Gallery
Video