SPC15
Talk

0
1,179pages on
this wiki
Meromero~! Kanade no rakki supuun nya ♪ (メロメロ〜!奏のラッキースプーンニャ♪, Meromero~! Kanade no rakki supuun nya ♪? Lit. "Meromero~! Kanade's lucky spoon-nya ♪") is the fifteenth episode of Suite Pretty Cure♪.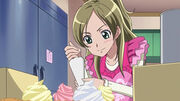 As senior Ouji's birthday neared, Kanade and the other members of band Musical Princes planned to hold a birthday party for him at the Lucky Spoon. Kanade worked hard in order to make the best cupcakes so that Ouji could have the best birthday party. Kanade, Hibiki and the Musical Princes agreed to hold the birthday party on the terrace of the Lucky Spoon. Siren, who was hidden and listening in to their conversation, plotted to do something to disrupt the party. Without a clue, Kanade put her heart into cake-making practice. Watching Kanade work, Hibiki also volunteered to help out. Hibiki and Hummy hoped that Kanade's hard work would make Ouji really happy.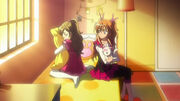 The next day, Kanade went to look for the Musical Princes to discuss birthday party details, but overheard Ouji talking about his "princess" not feeling well. Kanade thought that Ouji's princess must be his girlfriend, and when she returned home, she lost the drive to make cupcakes. Hibiki and Hummy encouraged the depressed Kanade, saying that if she really wished for Ouji to be happy with her Lucky Spoon, she had to finish making the cakes. With Hibiki's words, Kanade got back the energy to continue. On the day of the party, the Lucky Spoon's interior was decorated, and Kanade completed a cupcake tower for the celebration.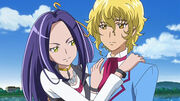 Ouji, unaware of the party, was heading to the Lucky Spoon. Siren, who was planning to waylay him along the way, hypnotized Ouji. Hibiki, Kanade and Hummy rushed to the scene. Siren, spotting a musical note residing on the Lucky Spoon in Hummy's hand, turned it into a Negatone. Hibiki and Kanade transformed into Pretty Cure, but despite attempts to fight, the once-Lucky Spoon now possessed unlucky power as a Negatone, causing the Cures to keep tripping over stones. However, once Melody and Rhythm managed to get their act together, they defeated the Negatone using final attacks with their Belltiers.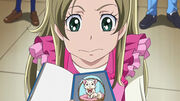 Back at the Lucky Spoon, Ouji's birthday party celebration was already underway. Kanade planned to present her cupcake tower to Ouji as a gift, but Souta had unknowingly passed out most of the cupcakes to the guests. Kanade was shocked, but did not get angry since Souta was trying to help out. When Kanade went to congratulate Ouji, she overheard Ouji talking about his pet dog named Princess. Ouji told Kanade that the best present for him was seeing Kanade's cupcakes bringing smiles to his friends. Hearing that, Kanade became happy again.
"Meromero" in the episode title means "falling in love" in Japanese.
Characters
Edit