Rainbow Healing (レインボーヒーリング, Reinbō Hīringu?) is the first group purification attack that the Smile! Cures use. To use it, the Cures need Candy to produce the Miracle Jewel Decors, which they have to insert into their Smile Pacts. This attack was first shown in episode 12, and is capable of successfully purifying Blue Nose Akanbe. In the English dub, the name is changed to Tiara Mode Torrent.
Description
Candy first produces a beam of golden light from the markings on her forehead, which explode to form the 5 Miracle Jewel Decors. The Cures then grab their own Jewel Decor and insert it into their Smile Pacts. This allows them to power-up to Tiara Mode, during which their normal white tiara is replaced by a golden crown, and their earrings change as well.
The Cures then put their hands together and shout out part of the incantation phrase. Golden angel wing decorations form on their tiaras, and their 5 colored lights shine from their hands. They then raise their free hands and complete the incantation phrase. The bubble of white light surrounding them explodes into a rainbow wall, which blasts towards the enemy.
Incantation
Japanese
Cures: プリキュアレインボーヒーリング!
Romanization
Cures: Purikyua Reinbō Hīringu!
Literal Translation
Cures: Pretty Cure Rainbow Healing!
Glitter Force
All: Insert Tiara Charm!
Glitter Pact: Activate Tiara Mode!
All: Glitter Force Tiara Mode Torrent!
Trivia
This is the fifth attack in the Pretty Cure franchise that utilizes the word "rainbow". The previous attacks are
This is the second attack in the Pretty Cure franchise that utilizes the word "healing", the first being Cure Pine's Healing Prayer.
This is the ninth attack that utilizes the power of a mascot or a group of mascots to aid in it. The previous attacks are:

1st: Rainbow Storm (Pollun bestows Cures Black and White with the Rainbow Bracelets in Futari wa Pretty Cure.
2nd/3rd/4th: Spiral Heart and Star Splash (Moop and Foop enter the Splash Commune and call upon the Spiral Heart/Star bracelets for Cure Bloom/Bright and Egret/Windy, respectively), and Spiral Heart Splash Star (Moop, Foop, Flappy, and Choppy all give Bloom, Egret, Michiru, and Kaoru their power) in Futari wa Pretty Cure Splash Star.
5th/6th/7th/8th: Five Explosion in Yes! Pretty Cure 5 (Milk turns into a small bag that aids in the attack), Rainbow Rose Explosion (Coco calls upon the Cure Fleurets for the Cures to use) and Metal Blizzard (Nuts calls upon the Milky Mirror for Milky Rose to use), and Floral Explosion (Coco, Nuts, and the Four Rulers transfer their powers to the Cures and Rose) in Yes! Pretty Cure 5 GoGo!

There is a small error in episodes 12-14: when March sets her Miracle Jewel Decor on her Smile Pact, the blue gem on the Pact lights up instead of the green one. This is corrected from episode 17 on.
Gallery
Screenshots
Videos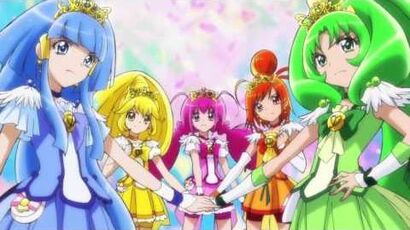 Ad blocker interference detected!
Wikia is a free-to-use site that makes money from advertising. We have a modified experience for viewers using ad blockers

Wikia is not accessible if you've made further modifications. Remove the custom ad blocker rule(s) and the page will load as expected.