Mofurun noticed that this article lacks content or has faulty grammar and information.
She says you can help by
editing
this stub!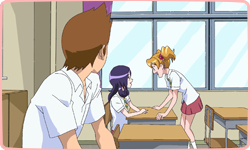 Public Yotsuba Junior High School
is
Momozono Love
and
Higashi Setsuna's
school from
Fresh Pretty Cure!
.
Daisuke
also attends school here, and during a festival he was helping Love set up a haunted house.
Uniform
The uniform is quite formal and western. Yotsuba Junior High School is a mixed school. For girls a amaranth blazer with dark pink lining on the lapel and a white shirt is worn under. This also applies to boys. Girls also wear a dull pink mini skirt. White socks are worn with black or brown shoes to finish. Both uniforms have a green and yellow striped tie to adorn the shirt. For boys the bottom is grey trousers. To finish, the socks are worn with brown and black shoes.
Notable Students
Trivia