Mofurun noticed that this article lacks content or has faulty grammar and information.
She says you can help by
editing
this stub!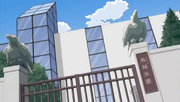 The
Private Torigoe Academy
(

鳥越学園

Torigoe gakuen

?

)
is
Aono Miki's
school. In
episode 3
, some students of
Public Yotsuba Junior High School
had this conversation while walking past Miki: "Isn't that the uniform from Torigoe Academy?" "Ehh. You mean she's an artist?" meaning that this school may be a school for the arts. It is different from the other schools.
Uniform
As seen it has the color blue; the top has light blue color and the skirt has the same color as the bow but a bit darker. It includes black leggings. The shoes look almost as sneakers and has a blue-grey color. The only person which has been seen to wear this uniform in Fresh Pretty Cure! is Aono Miki.
Notable Students
Gallery
References
Ad blocker interference detected!
Wikia is a free-to-use site that makes money from advertising. We have a modified experience for viewers using ad blockers

Wikia is not accessible if you've made further modifications. Remove the custom ad blocker rule(s) and the page will load as expected.