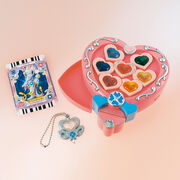 The Prism Hopish (プリズムホーピッシュ, Purizumu Hōpisshu?) is the Garden of Light's source of power, and also the source of light in the whole universe. It includes 7 stones. 5 of which were stolen by Dotsuku Zone, the dark blue and pink ones were protected by Mipple and Mepple.
Whenever the Cures get a stone back, the Guardian of the Stones protects it.
The Hopish also appears as a flashback in Max Heart.
List of stones
Gallery
Ad blocker interference detected!
Wikia is a free-to-use site that makes money from advertising. We have a modified experience for viewers using ad blockers

Wikia is not accessible if you've made further modifications. Remove the custom ad blocker rule(s) and the page will load as expected.