Princess Candle
Talk

0
1,180pages on
this wiki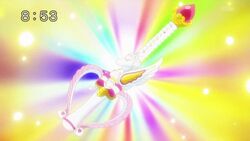 The Princess Candle (プリンセスキャンドル, Purinsesu Kyandoru?) is the Cure's main weapon appearing in the 23rd episode of the series. The weapon resembles a rod-like sword with a Pegasus design and a Jewel in the tip.
Information
Edit
The Princess Candle serves as a weapon for the Cures to perform their secondary group attack, Rainbow Burst. This weapon can be obtained in episode 23 with the Cures power-up called Princess Form. To use this object, the Pretty Cures must have strong feelings before Smile Pact glows to summon Princess Candle. With them, and the Royal Clock, they can also perform their third group attack, Royal Rainbow Burst.
Appearence
Edit
The Princess Candle is a scepter with two pink and white handles in the lower part with a ribbon where the Cure Decors can be inserted. In the middle part there is the head of a pegasus with a gold wing. In the upper part there are five gems, each one from a different theme colour of the Cures. One the very top is a crystal on a gold calyx that shines the theme color of the Cure using it.
The Princess Candle mirrors the Yes! Cures secondary weapon, the Cure Fleurets as they also have the same function on executing a group attack as well.
The Princess Candle's heart shaped handle is similar to the handle of Sailor Moon's Kaleidomoon Scope, because of the wings even though if it had one and the handle which is in a form of a heart.