Welcome to Pretty Cure wiki!
Pretty Cure Wiki is a comprehensive encyclopedia that anyone can edit!
It covers the anime series, characters, storylines, and other relevant material to the Pretty Cure series. Pretty Cure is the main term used in the series to describe a group of girls who can transform into warriors. In each season, there is a legend of warriors who will come to aid the world when it is in need, and stop an invasion of evil.
The franchise started in 2004 with Futari wa Pretty Cure. Since then, fourteen Pretty Cure seasons have been developed and aired. The currently airing season is KiraKira☆Pretty Cure A La Mode, which has a baking theme.
Please tell your friends about this wiki and help us to make this an information source of Pretty Cure to be proud of.
This wiki contains a plethora of spoilers relating the Pretty Cure series. Read at your own risk!
This wiki currently has 2,359 articles since its creation.
Content
Many different kinds of content exist in this database, this is a rundown of the most important categories. Also refer to the top header for navigation.
Fiction
Franchise
Poll
New Cure alert! What do you think of Cure Parfait?
Affiliates

How to help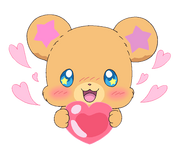 Not sure where to start?
Featured Image
Ad blocker interference detected!
Wikia is a free-to-use site that makes money from advertising. We have a modified experience for viewers using ad blockers

Wikia is not accessible if you've made further modifications. Remove the custom ad blocker rule(s) and the page will load as expected.