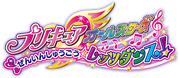 Pretty Cure All Stars Everyone Gather ☆ Let's Dance! (プリキュア オールスターズ ぜんいんしゅうごう☆レッツダンス!, Purikyua Ooru Sutaazu Zenin Shuugou ☆ Rettsu Dansu!?) is a new game by Bandai Namco Games for the Wii console. It has released on 28 March 2013. All 32 Pretty Cure main characters, including those from the season Doki Doki! Pretty Cure are featured in this rhythm-based game.
Gameplay
The player picks any one of the 12 songs available for play, and match the rhythms of the Cures' dance movements. There are 20 stages to clear.
The player gets jewels for clearing stages, and new stages will be revealed as more jewels are collected. There is also a special stage where all the 32 Cures dance together.
There is a 2-player option, and difficulty levels can be adjusted.
You can choose with what Cures you want to play, as you can decided with all the yellow cures, green or even blue (your choice of Cures), you can also make your own team with Cures while playing.
Dance Songs
Game Stats
Console: Wii
Release Date: 28 March 2013
Price: 6090yen
Genre: Dance Game
Player: 1~2
Maker: Bandai Namco Games
First Press Bonus
Trivia
First Pretty Cure game which is held in home consoles (in this case, Nintendo Wii), where the other Pretty Cure games are on handheld such as Gameboy Advance (Futari wa Pretty Cure and Max Heart), Nintendo DS (Splash Star to Suite) and Nintendo 3DS (Smile).
Some of the stages look like the stage from the 10min Pretty Cure movie, Pretty Cure All Stars DX: 3D Theatre.
It is known that you can play with your favorite character, with only lead Cures or other Cures as you would like.
External Links
Game Official Site  (Japanese)
Gallery
Videos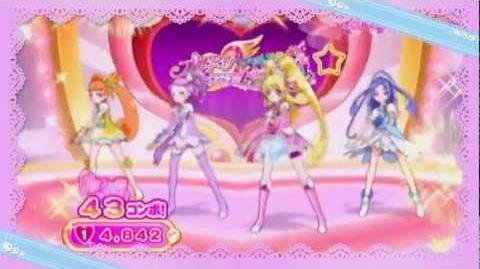 Ad blocker interference detected!
Wikia is a free-to-use site that makes money from advertising. We have a modified experience for viewers using ad blockers

Wikia is not accessible if you've made further modifications. Remove the custom ad blocker rule(s) and the page will load as expected.