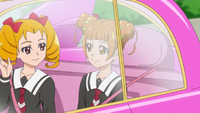 Nanatsubashi Academy (七ツ橋学園, Nanatsubashi Gakuen?) is a private school in Doki Doki! Pretty Cure that is mentioned in the show. The school does not make an appearance in the series. The school uniforms are black with a red tie and so far only Reina and Alice are only two known students to attend Nanatsubashi Academy.
Known Students
Trivia
References
Ad blocker interference detected!
Wikia is a free-to-use site that makes money from advertising. We have a modified experience for viewers using ad blockers

Wikia is not accessible if you've made further modifications. Remove the custom ad blocker rule(s) and the page will load as expected.