Mofurun noticed that this article lacks content or has faulty grammar and information.
She says you can help by
editing
this stub!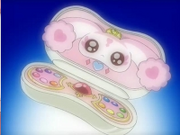 The Miracle Commune (ミラクルコミューン, Mirakuru Komyūn?) is the form that Lulun takes when in the Garden of Rainbows in Futari wa Pretty Cure Max Heart. She has the power to give Shiny Luminous the Heartiel Brooch which powers up the Extreme Luminaro, and also provide her with a protective shield.
Appearance
The Miracle Commune resembles a miniature laptop with a bean-ish shape. The base is white, with the inner screen and hand portion pale pink. Where Lulun resides is a heart surrounded by a pink diamond on either side. The hand area has a large, dark pink sphere with a gold design to match the gold lining on each indented side. Spheres of rainbow colors line both indents, coming in blue, dark blue, dark green, mint, yellow, orange, red, pale pink, pink, purple, indigo, and sky blue.
Gallery