Mofurun noticed that this article lacks content or has faulty grammar and information.
She says you can help by
editing
this stub!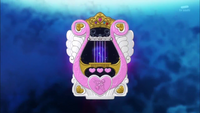 The Magical Lovely Harp (マジカルラブリーハープ, Majikaru Raburī Hāpu?) is an upgrade version of the Magical Lovely Pad. The Harp allows the Doki Doki! Cures to use their new group attack - Royal Lovely Straight Flush. It gives them also a pair of angel wings. The Magical Lovely Harp appeared for the first time in episode 40.
Appearance
A small pink and white harp with a dark screen in the middle depicting an etched heart and bead design along the top beneath a white band, while three pink hearts rest beneath a gold band towards the bottom. A white wing shape is on each side of the harp, while a gold crown rests on top with five heart-shaped stones. At the top corners of the harp are gold hearts, while the white part beneath it has two gold hearts at the lower corner. In the lower center is a pink and white heart depicting a heart-style arrow with angel wings. The center of the instrument has five colored strings.
Powers
Angel wings for the Cures.
Trivia
Gallery
Ad blocker interference detected!
Wikia is a free-to-use site that makes money from advertising. We have a modified experience for viewers using ad blockers

Wikia is not accessible if you've made further modifications. Remove the custom ad blocker rule(s) and the page will load as expected.