Mofurun noticed that this article lacks content or has faulty grammar and information.
She says you can help by
editing
this stub!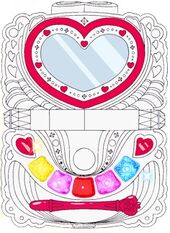 The Love Eyes Palette (ラブアイズパレット, Rabu Aizu Paretto?) is the transformation device of Cure Ace from Doki Doki! Pretty Cure. It makes its first appearance in episode 22.
Appearance
A white compact-style container with a plastic red border styled with a heart at each corner on top of two flattened hearts, with a ruby gem shaped like the four card symbols- one on each. In the center is a border with tiny hearts and a chain design, resting beneath a large stylized A with a gold heart-shaped gem on the bottom. Four gold gems adorn the side on top of four gems to match the Pretty Cure theme colors.
On the inside is a red and white heart-shaped border with tiny hearts lining it. The bottom half has five Royal Crystals with colors arranged from left to right: yellow, purple, red, pink and blue, a Lovead in the middle with an "A", a red make-up pen, and a red shiny stylized heart at each corner.
Trivia
Gallery