La♪ La♪ La♪ Suite Pretty Cure♪ ~∞UNLIMITED ver.∞~ Single
Comments

0
Share
Ad blocker interference detected!
Wikia is a free-to-use site that makes money from advertising. We have a modified experience for viewers using ad blockers

Wikia is not accessible if you've made further modifications. Remove the custom ad blocker rule(s) and the page will load as expected.
La♪La♪La♪ Suite Pretty Cure♪ ~∞UNLIMITED ver.∞~ (ラ♪ラ♪ラ♪スイートプリキュア♪~∞UNLIMITED ver.∞~, Ra♪Ra♪Ra♪ Suīto Purikyua♪ ~∞UNLIMITED∞ ver.~?) is the second Suite Pretty Cure♪ single that came out on September 7th, 2011.
The single contains the second opening and ending themes of the show and the melody karaoke versions of the songs. The DVD includes the credit-less versions of the opening and ending video clips.
CD
Track #
Title
Time
01
La♪ La♪ La♪ Suite Pretty Cure♪ ~∞UNLIMITED ver.∞~
(ラ♪ラ♪ラ♪スイートプリキュア♪ ~∞UNLIMITED∞ ver.~


Ra♪Ra♪Ra♪ Suīto Purikyua♪ ~∞UNLIMITED∞ ver.~

?

)
03:26
02
♯Hope Rainbow♯
(♯キボウレインボウ♯


♯Kibō Reinbō♯

?

)
04:09
03
La♪ La♪ La♪ Suite Pretty Cure♪ ~∞UNLIMITED ver.∞~ (Original・Melody・Karaoke)
(ラ♪ラ♪ラ♪スイートプリキュア♪ ~∞UNLIMITED∞ ver.~ (オリジナル・メロディー入り・カラオケ)


Ra♪Ra♪Ra♪ Suīto Purikyua♪ ~∞UNLIMITED∞ ver.~ (Orijinaru・Merodī Iri・Karaoke)

?

)
03:26
04
♯Hope Rainbow♯ (Original・Melody・Karaoke)
(♯キボウレインボウ♯ (オリジナル・メロディー入り・カラオケ)


♯Kibou Reinbō♯ (Orijinaru・Merodī Iri・Karaoke)

?

)
04:09
DVD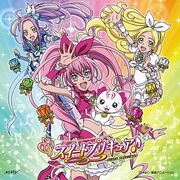 Track #
Title
Time
01
La♪La♪La♪ Suite Pretty Cure♪ ~∞UNLIMITED∞ ver.~ (Suite Pretty Cure♪ Second Opening・Non Telop Movie)
(ラ♪ラ♪ラ♪スイートプリキュア♪ ~∞UNLIMITED∞ ver.~ (スイートプリキュア♪ 後期オープニング・ノンテロップムービー)


Ra♪Ra♪Ra♪ Suīto Purikyua♪ ~∞UNLIMITED∞ ver.~ (Suīto Purikyua♪ Kōki Ōpuningu・Nonteroppu Mūbī)

?

)
01:26
02
♯Hope Rainbow♯ (Suite Pretty Cure♪ Second Ending・Non Telop Movie)
(♯キボウレインボウ♯(スイートプリキュア♪ 後期エンディング・ノンテロップムービー)


♯Kibou Reinbō♯ (Suīto Purikyua♪ Kōki Endingu・Nonteroppu Mūbī)

?

)
01:30