Mofurun noticed that this article lacks content or has faulty grammar and information.
She says you can help by
editing
this stub!
Kagayaki Homare
輝木ほまれ Kagayaki Homare
Description
Season
HUGtto! Pretty Cure
Gender
Female
Eye Color
Yellow
Hair Color
Gold (Homare)
Yellow (Étoile)
Alter Ego
Cure Étoile
Theme Color
Yellow (main)
Japanese Voice Actor
Ogura Yui
Kagayaki Homare (輝木ほまれ, Kagayaki Homare?) is one of the three main characters of HUGtto! Pretty Cure. Homare's alter ego is Cure Étoile (キュアエトワール, Cure Étoile?) and she is known as the Pretty Cure of Strength. Her catchphrase is "Cool, isn't it?" (「イケてんじゃん」, "Iketen jan"?).
Bio
Appearance
As Homare, she has short gold hair with one lock curling upward and gold eyes. She wears a long-sleeved yellow off-the-shoulders top with a pale yellow ruffle lining the top as well as a short white skirt accented with a blue sash tied on the left. She also wears a black wire choker and light yellow sandals.
As Cure Étoile, her hair becomes golden yellow and grows in length, tied up into a ponytail held together by a spiky yellow hairpiece, with two star-shaped clips decorating it. She also wears a small blue flight attendant's hat with a jeweled tiara underneath it. Her eyes also become golden yellow. She wears a short orange dress with a bubble skirt with two long cream-colored ruffles hanging from each side. She also has a blue sash with her carrying pouch on the left side decorated with a yellow star. She also wears a cream-colored cape that hangs on her shoulders and is split in the back. For her other accessories, she has a blue scarf tied on the right, white cuffs line in blue, orange high heels with a blue diamond shape across the top of the foot, a thin blue band around the left thigh, and yellow star-shaped earrings.
Personality
Homare is a mature girl who excels at everything. However, she appears to have self-esteem issues, quitting figure skating after failing to complete a jump.
She also loves cute things and ice cream.
Relationships
Etymology
Kagayaki (輝木, Kagayaki?) - Kagaya (輝, Kagaya?) means "sparkling" and "shining" [1] while ki (木, ki?), a common suffix used in Japanese surnames, means "tree" [2], making "Kagayaki" mean "sparkling tree". "Kagayaki" may also be a pun on the Japanese word Kagayaki (輝き, Kagayaki?), which means "sparkling".
Homare (ほまれ, Homare?) - There are two different possible kanji readings for her first name: "誉" or "譽", both meaning "reputation" or "honor" [3]. This matches with Homare's talented nature.
When the kanji of "Kagayaki" and "Homare" are put together, her name can be translated to "sparkling reputation".
Étoile is a French word meaning "star"[4].
History
Cure Étoile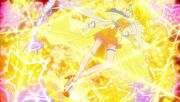 "Making everyone shine! The Pretty Cure of Strength! Cure Étoile!"
みんな輝!力のプリキュア!キュアエトワール!
Min'na Kagayake! Chikara no Purikyua! Kyua Etowāru!
Cure Étoile (キュアエール, Cure Étoile?) is the Pretty Cure alter ego of Homare. In order to transform, she needs the PreHeart and her Mirai Crystal.
Transformations
Attacks
Heart Star! (

ハート・スター!

?

) is Cure Étoile's main attack.
Trinity Concert (

トリニティ・コンサート

?

) is an attack Cure Ange performs alongside Cures Yell and Ange to purify the enemy. She first performed it with her team mates in episode 11.
Star Slash (

スター・スラッシュ

?

) is Cure Étoile's secondary attack that she performs to deflect any attack that comes her or her teammates' way. She first performed it in episode 12.
Songs
Homare's voice actor, Ogura Yui has participated in several image songs for the character she voices. Many of them include duets with Hikisaka Rie, who voices Nono Hana, and Hon'izumi Rina, who voices Yakushiji Saaya.
Duets
Trivia
Homare's birthday is April 8th, making her Zodiac sign Aries.
Gallery
Main Page: Kagayaki Homare/Image Gallery
References