Infinity Silhouette
Talk

3
1,178pages on
this wiki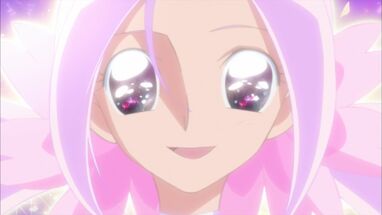 Infinity Silhouette is the final upgrade that all the Cures unlock in Heartcatch Pretty Cure! by combining their hearts and powers as one while defeating Dune.
Description
When everyone lends their power to the Heartcatch Mirage, the Pretty Cures undergo a transformation called Infinity Silhouette. A giant egg-like shell forms around all the Cures and then it cracks. They become a giant woman, much like in the Heartcatch Orchestra, with long light-pink hair in two pigtails. When the giant Pretty Cure opens her eyes, you can see the many stars of the universe shining within. The Infinity Silhouette gets a cape very similar to the one they get with the help of their mascots. Instead of a heart pin, surrounding the pin are petals from cherry blossoms, the same as Cure Blossom's theme flower. She wears a flowing white dress with cherry blossom accessories in her hair, and has an invisible shield which can block any attack. This form lets her use her signature move, much like in the Heartcatch Orchestra, Pretty Cure! Straight Punch.
Transformation Phrase
English:
"The grand flower that blossoms throughout the universe! Infinite power... Infinite love... the Pretty Cure with eyes like stars... Heartcatch Pretty Cure, Infinity Silhouette!"
Japanese:
宇宙に咲く大輪の花、無限の力と無限の愛を持つ、星の瞳のプリキュア ハートキャッチプリキュア無限シルエット!
Romanization:
Uchuu ni Saku Tairin no Hana. Mugen no Chikara to Mugen no ai wo motsu, hoshi no hitomi no Purikyua! Haatokyacchipurikyua Mugen Shiruetto!
Gallery