Mofurun noticed that this article lacks content or has faulty grammar and information.
She says you can help by
editing
this stub!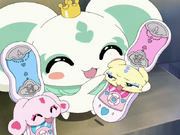 The Heartful Communes (ハートフルコミューン, Hātofuru Komyūn?) are the evolved form of Card Communes that appears in Futari wa Pretty Cure Max Heart.
The Heartful Communes allow Nagisa and Honoka to transform into their new forms in Episode 1 of Max Heart and provides them with stronger powers and special "Heart Cards" to be used.
Appearance
In this form the Communes gain a more phone-like shape and the top is flipped around, rather then opened. The base of the phone is white with a colored portion on the top half coming in pink or blue, accent by silver designs.
The lower screen has lighter coloring than the top and a colored window for Mipple or Mepple. The button pad is now white and solid in shape, surrounding a blue circled button to match the two hearts on either side.
When worn on the Cure, the pouch is now white and pale blue with white designs and a pink ribbon.
Cards
The cards are inserted at the top of the Heartful Communes and then the front part is spun to use them. They consist of:
Queen: To transform into Pretty Cure.
Omp: Who prepares meals for Mepple and Mipple. He speaks with a French accent and is often annoyed with Mepple's high food expectations.
Atalp: A fortune teller.
Yaop: A corn guy with a fork and spoon icon, most likely a vegetable person.
Meap: A bull that prepares meat.
Swiep: A cute little yellow creature that wears a red frilled neck collar and small hat.
Nelp: Puts them to bed with a lullaby.
Shiklp: Responsible for teaching and health.
Palp: A doctor/nurse that takes care of Mepple and Mipples health. A pink bird-like creature in a nurse uniform with a big stethoscope. Mepple is afraid of her needle.
Beautip: A rose girl wearing a yellow dress who takes care of Mepple and Mipple's appearance.
Gallery