HPC33
Talk

0
1,179pages on
this wiki
Cure Moonlight is Finally Reborn!
(

キュアムーンライト、ついに復活ですっ!!

Cure Moonlight, Tsui ni Fukatsu desu!!

?

)
is the 33rd episode for the season
Heartcatch Pretty Cure!
, the seventh season in the
Pretty Cure
franchise. The episode centers around the past of Cure moonlight and the trail for the Heartcatch Mirage.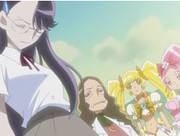 Yuri was in the bridge as she was thinking about her friends saying that she could be a Cure. But as then it was imposibile since her
Heart Flower
was broken. Meanwhile, Tsubomi, Erika and Itsuki were in Kaoruko as they were asking her for information on Yuri. Kaoruko said that Yuri got to be a Cure right after her
father
dissapeared, he dissapeared in France searching for the Heart Tree, then Yuri was choosen as a Cure because of
Cologne
, then Yuri to overcome her sadness trasformed into Cure Moonlight to fight Dessert Messengers.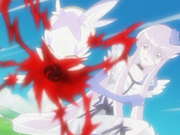 After talking more, then Chypre and Coffret said to the girls that, Cologne was very kind and because he wasn't there for Cure Moonlight, Cure Moonlight got defeated by Dark Cure, which Sabaku was there also making Cologne die as Sabaku wanted to kill Cure Moonlight. Then after hearing all the story the girls got sad and Erika then got up and went with the girls to cheer up Yuri. As then it was morning, the girls were tring to make things for Yuri to make her happy. Kaoruko then was seeing a light shining from
Coupe
and then it was a new item and then Kaoruko said to Chypre to get Yuri with the Heartcatch Mirage.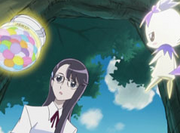 Meanwhile, Dark Cure went to Sabaku to show him Yuri's heart flower and then Yuri arrived at Kaoruko and saw in the Heartcatch Mirage that Cologne was in there but his body wasn't as then the Dark Cure arrived with Yuri's other half Heart Flower. Yuri then went in the Heart Tree and then the other girls transformed to duel the Dark Cure. Then Yuri was looking for Cologne and then he showed up, Yuri wanted to touch him but he was only as a ghost and after that he said to Yuri that she could say to the Heart Tree to become a Cure again making Yuri afraid....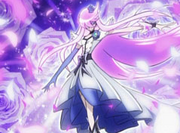 Thinking, in the Heart Tree a heart showed up, making Yuri see what was going on with the Cures, and in there it showed up that the Cures were getting defeated as they were trying their best, then Yuri was feeling sad for them and then told the Heart Tree to become a Cure again. Dark Cure was about to kill the Cures after that Yuri showed up making Cure Sunshine happy then she trasformed as her half Heart was complete making her Cure Moonlight and then she was going to fight Dark Cure for everyone's sake.
Characters
Edit