HPC18
Talk

0
1,177pages on
this wiki
Saikyou Densetsu! Banchou Toujou, Yoroshiku Desu!! is the eighteenth episode for the season Heartcatch Pretty Cure!, the seventh season in the Pretty Cure franchise. It has a theme about manga, and focuses on the aspiring manga artist Ban Kenji.
Ban Kenji leaves the school and purposely slammed the door. The people laughed at him, and he glares him with his left eye. The students and very frantic and grave, except for Tsubomi. Erika starts to felt shocked about Kenji, then tells a story about Kenji as a "legendary delinquent" but scary leader.
Next, Tsubomi and Erika visits Ken's mother at Ban's house. Ban sneaks and hide from his mother at the bushes, but Erika sharply sees him. Ban begins to panic silently and scares Erika with his left eye. Then, the girls ran away, but Kenji starts to chase them. Tsubomi fell at the stairs; Kenji and Erika rescue her.
The three woke up during the fall, then Kenji shows his secret work of his shoujo manga starring the Pretty Cure. The girls are shocked and Kenji starts reading it. He tells that Cure Blossom will be the love cupid and Cure Marine fell in love with him (unfortunately, with long hair). Kenji was unable to finish the manga, but the girls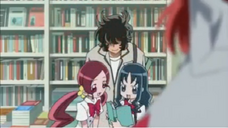 helped him.
At his house, Kenji tutors the girls how to draw the manga, but his mother and Kurumi Sakura came to the house. Tsubomi, Erika, and Kenji start hiding the drawings panickly and bring their studying materials out. The mothers came to Kenji's room to see what is going on with them. Sakura begins to open the curtains and spies Kenji's drawings. He explains his mother that he lied, because he was drawing manga secretly, then ran away.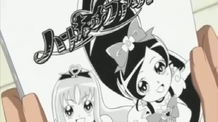 Kumojaki spies that he was going to read Kenji's manga, but was terrified when the Pretty was in the manga. He then steals Kenji's Heart Flower. Pretty Cure begin to rescue Kenji turning himself into an ink Desertarian. They use Floral Power Fortissimo finally.
Kenji felt like he was going to chase his dream of being a manga artist, so his mother will not be worried anymore.
Major Events
Edit
Erika begins her story about Ban as the legednary boss.
Tsubomi and Erika visits at Ban's house.
Ban and the girls worked on his shoujo manga.
Ban lies to his mother about his habits of drawing manga.
At the end, Ban Kenji must work at his career.
Characters
Edit
Kumojaki was shown at the library, thus the girls and Kenji did not see him.
It has some references to Jojo's Bizarre Adventure, for example, when Erika's talking about the bosses, Ban is pictured as Joseph Joestar.