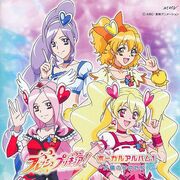 Fresh Pretty Cure! Vocal Album 1 ~To The Children Of The Sun~ (フレッシュプリキュア! ボーカルアルバム 1 〜太陽の子供たちへ〜, Furesshu Purikyua! Bōkaru Arubamu 1 ~Taiyō no Kodomotachi e~?) is the first vocal album for the Fresh Pretty Cure! series, including character songs for the Pretty Cure, as well as the first opening and ending songs. The album was released on July 23rd, 2009.
Track List
Ad blocker interference detected!
Wikia is a free-to-use site that makes money from advertising. We have a modified experience for viewers using ad blockers

Wikia is not accessible if you've made further modifications. Remove the custom ad blocker rule(s) and the page will load as expected.