Ad blocker interference detected!
Wikia is a free-to-use site that makes money from advertising. We have a modified experience for viewers using ad blockers

Wikia is not accessible if you've made further modifications. Remove the custom ad blocker rule(s) and the page will load as expected.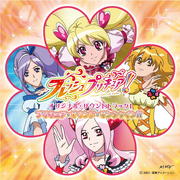 Fresh Pretty Cure! Original Soundtrack 1 Pretty Cure Sound Sunshine!!
(

フレッシュプリキュア! オリジナル・サウンドトラック1 プリキュア・サウンド・サンシャイン!!

Furesshu Purikyua! Orijinaru Saundotorakku 1 Purikyua・Saundo・Sanshain!!

?

)
is the first soundtrack that was released on September 2
nd
, 2009 the for
Fresh Pretty Cure!
series. It contains the tracks that were used in the first half of the series which brings track total for the soundtrack to 41. The composer for the series' music was Yasuharu Takanashi.
Contents
CD
Track #
Title
Time
01
The legend of the Kingdom of Sweets
(

スウィーツ王国の伝説

?

)
01:59
02
Let's! Fresh Pretty Cure! (TV size)
(

Let's!フレッシュプリキュア!(TVサイズ)

?

)
01:28
03
Fluttering steps
(

ときめきステップ

?

)
01:25
04
Subtitle (Btype)
(

サブタイトル(Btype)

?

)
00:09
05
Chiffon's theme
(

シフォンのテーマ

?

)
01:34
06
Tarte and Chiffon
(

タルトとシフォン

?

)
01:45
07
Peaceful afternoon
(

のどかな昼下がり

?

)
02:08
08
Fortune-telling mansion
(

占いの館

?

)
01:33
09
Shadow of Labyrinth
(

ラビリンスの影

?

)
01:31
10
Switch Over!
(

スイッチオーバー!

?

)
01:34
11
Nakewameke appears
(

ナケワメーケ出現

?

)
01:57
12
Pretty Cure・Beat Up!
(

プリキュア・ビートアップ!

?

)
02:01
13
Pretty Cure gallantly appears!
(

プリキュア颯爽登場!

?

)
01:59
14
Lovely Fighter
(

Lovely Fighter

?

)
01:52
15
Linked bonds
(

つながる絆

?

)
02:05
16
Sentimental
(

センチメンタル

?

)
02:19
17
A refreshing morning
(

すがすがしい朝

?

)
02:03
18
I am perfect!
(

あたし完璧!

?

)
01:43
19
Eyecatch (Ctype)
(

アイキャッチ(Ctype)

?

)
00:07
20
Eyecatch (Btype)
(

アイキャッチ(Btype)

?

)
00:08
21
Clover Town・Street
(

クローバータウン・ストリート

?

)
01:14
22
Exciting curiosity
(

わくわく好奇心

?

)
02:05
23
Chiffon's mischief
(

シフォンのいたずら

?

)
01:29
24
Tart's struggle
(

タルト奮闘す

?

)
01:12
25
Young girl's heart
(

乙女心

?

)
01:55
26
Painful feelings
(

切ない想い

?

)
02:06
27
I, believe in
(

私、信じてる

?

)
02:07
28
I won't give up my dream
(

夢をあきらめない

?

)
02:03
29
Labyrinth's theme
(

ラビリンスのテーマ

?

)
01:35
30
Supreme Ruler Moebius
(

総統メビウス

?

)
01:51
31
Messenger from Labyrinth
(

迷宮からの使者

?

)
01:08
32
The incident occurs
(

事件発生

?

)
02:02
33
A hard fight
(

苦戦

?

)
02:23
34
Chiffon awakens
(

シフォン目覚める

?

)
01:56
35
A new power, Cure Stick!
(

新たなパワー、キュアスティック!

?

)
01:50
36
The power to fight for someone
(

誰かのために戦う力

?

)
01:39
37
Theme of friendship
(

友情のテーマ

?

)
01:49
38
Get your happiness!
(

幸せゲットだよ!

?

)
02:40
39
It's Happy tomorrow too!
(

明日もHappy!

?

)
01:48
40
You make me happy! (TV size)
(

You make me happy!(TVサイズ)

?

)
01:34
41
Preview
(

予告編

?

)
00:32