Mofurun noticed that this article lacks content or has faulty grammar and information.
She says you can help by
editing
this stub!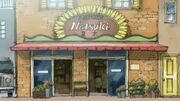 Fleuriste Natsuki is a flower shop owned by Natsuki Rin's parents in Yes! Pretty Cure 5 and Yes! Pretty Cure 5 GoGo!. Rin sometimes has to mind the shop and she usually asks Coco and the other girls for help.
History
Yes! Pretty Cure 5
Yes! Pretty Cure 5 GoGo!
Etymology
Fleuriste is French for florist.
Trivia
Gallery
Ad blocker interference detected!
Wikia is a free-to-use site that makes money from advertising. We have a modified experience for viewers using ad blockers

Wikia is not accessible if you've made further modifications. Remove the custom ad blocker rule(s) and the page will load as expected.