Full of Smiles! Everyone Will Get Their Happiness!! (笑顔がいっぱい! みんなで幸せゲットだよ!!, "Egao ga Ippai! Minna de Shiawase Getto da yo!!"?) is the 50th and final episode of Fresh Pretty Cure! and also the 292nd episode of the Pretty Cure franchise overall.
Synopsis
The final battle between Cure Angel and Moebius. Will Pretty Cure be able to save Chiffon and the parallel worlds in time?
Summary
When they all fell and were weakened, the data of all people in Labyrinth were captured by Moebius. Then Peach, Berry, Pine, Passion, Tarte, Azukina, Westar, and Soular are separated from each other by the data cable.
Eventually they all fight a army of Moebius. One by one they were defeated and one by one people were missing data. As Moebius is being defeated, he plans to destroy all of Labyrinth once he gains Chiffon's powers. The girls face Chiffon and to save her while being attacked.
Then they collected a lot of heart power to save Chiffon with Pretty Cure Loving True Heart Fresh attack. With the attack, Chiffon eventually regained consciousness and returned to her normal self, causing everone to express happiness as the have saved her and she saves them in return.
They return home after a long battle and quickly meet up with their parents at their houses - who happily speak with them, having missed them.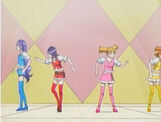 The next day, Setsuna decides that with Labyrinth safe, Setsuna decides to leave back with Soular and Westar. But first she agrees to dance in the contest as part of their group and they perform to
H@ppy Together!!!
.
In the end, the girls win the dance contest. Setsuna and the others decide to part ways, but first Love and Setsuna take some pictures to use as a memento for everything they have been through. They give a picture to Tarte, Chiffon, Azukina, and Setsuna before they all take off for their true homes. Daisuke also asked whether Love liked him back, she said she won't tell him.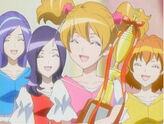 It is then shown of the girls futures; with Miki becoming a beautiful, elegant model, Inori became a smart and popular Veterinarian - and Love continues to do what she was doing beforehand. Everyone has since gained their true happiness...
Main Events
The Cure Angels (along with Soular and Westar) defeat Moebius, and Chiffon is saved.
Love, Miki, Buki, and Setsuna win the dance contest.
Tart, Azukina, and Chiffon return to the Kingdom of Sweets.
Setsuna, Soular, and Westar return to Labyrinth to make it a better world.
Miki becomes a popular model.
Inori learns how to be a vet.
Everybody gets back their happiness.
This marks the last episode of Fresh Pretty Cure! and it was suceeded by Heartcatch Pretty Cure! taking its initial timeslot.
Characters
Cures
Mascots
Villains
Secondary Characters
Gallery
Ad blocker interference detected!
Wikia is a free-to-use site that makes money from advertising. We have a modified experience for viewers using ad blockers

Wikia is not accessible if you've made further modifications. Remove the custom ad blocker rule(s) and the page will load as expected.