FPC50
Talk

0
1,180pages on
this wiki
"Then let's get to work-zakenna!"
This article or section is a stub and can be improved in areas such as grammar, style, wiki-formatting, spelling and expanding. The Butler Zakenna have been ordered to team up with Cure Wiki with the hope that this article might meet Cure Wiki's level of quality someday.


Help Cure Wiki and the Butler Zakenna by editing this article or section!
Egao ga Ippai! Minna de Shiawase Getto da yo!!
(

笑顔がいっぱい! みんなで幸せゲットだよ!!

Lit.

?

, "Full of Smiles! Everyone Will Get Their Happiness!!")
is the fiftieth and final episode of
Fresh Pretty Cure!
.
When they all fell and were weakened, the data of all people in Labyrinth were captured by Moebius. Then Peach, Berry, Pine, Passion, Tart, Azukina, Westar, and Soular separated from each other by the data cable.
Eventually they all fight a army of Moebius. One by one they were defeated and one by one people were missing data. When all were beaten by Moebius, Moebius would destroy the entire Labyrinth using Chiffon. Peach, Pine, Berry, and Passion faced in the direction Chiffon would be saved but they were attacked by Infinity.
Then they collected a lot of heart power to save Chiffon with Pretty Cure Loving True Heart Fresh!! attack. With the attack, Chiffon eventually regained consciousness and returned to her normal self. They were very happy because they had saved Chiffon.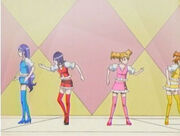 Eventually they all went back to their own world again. Buki, Miki, Setsuna, and Love went back to their home (Setsuna with Love). Their parents missed them, the Cures also missed their parents.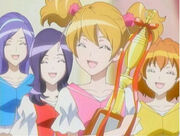 The next day, Setsuna said good-bye with Love, Miki, and Buki because she,
Soular
, and
Westar
were returning to
Labyrinth
that is now safe. Before they do that, they said they woild follow the dance contest. The theme song they dance is
H@ppy Together!!!
sung by
Miyuki Chinen
. They won the dance contest and ultimately that is where they parted.
After that, Love and Setsuna took a picture with the family. As a memento, Setsuna. Tart, Chiffon, and Azukina get a picture too because they will go back to Sweets Kingdom, which is their home. Setsuna, Soular, and Westar go home to Labyrinth. Miki became a very beautiful model. Buki became a smart and great veterinarian . While Love, does the same activities that she usually did. After that, everyone gets their happiness back.

Main Events
Edit
The Cure Angels (along with Soular and Westar) defeat Moebius, and Chiffon is saved
Love, Miki, Buki, and Setsuna win the dance contest continued from FPC44
Tart, Azukina, and Chiffon return to the Kingdom of Sweets.
Setsuna, Soular, and Westar return to Labyrinth to make it a better world.
Miki becomes a popular model.
Inori learns how to be a vet.
Everybody gets back their happiness.
Characters
Edit
Screenshots
Edit