Love and Daisuke: The Making Up Strategy!! (ラブと大輔 仲直りのしかた!, Rabu to Daisuke: Nakanaori no Shikata!!?) is the 31st episode for the season Fresh Pretty Cure! and also the 273rd episode of the Pretty Cure franchise overall.
Synopsis
Daisuke gets upset with Love over how much time she spends with Setsuna and forgets to keep a promise she made to him. Love however, gets mad at him, so the others try to mend their friendship.
Summary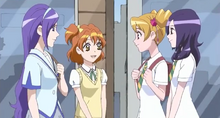 With a new semester starting Setsuna is enrolled into school. She meets up with the others when Daisuke approaches to tell Love something. When he spots Setsuna, he hesitates and decides to wait. But every time he tries to speak to her, Setsuna is just nearby, or Love is too busy fawning over her and how well she's doing.
By the time he finally gets to speak about her, he says something about Setsuna which causes Love to get angry. She claims to hate him for being so insulting - but he feels saddened over not being able to remind her of what it was he had been waiting to tell her.
Later Love was still angry, even as they dance. Miyuki happens to bring up how nervous he is for his upcoming match and Love realizes that she had forgotten to come by and watch it. Since he's become a regular on the team his match will be coming after the summer break ends.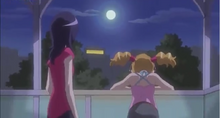 As evening approaches, she is very conflicated over what to do. She feels bad but isn't sure if cheering him on is really good either, since they got into a fight. Setsuna offers some advice and suggests Love go to cheer him on, since he will be happy to know he has her support, despite their arguement. She then comments on how simoliar they are.
Meanwhile, Daisuke is still really angry and eats donuts while trying to vest. He is unable to believe she had forgotten something so important.
The next day, during the dancing lesson, Love was thinking about Daisuke and the girls told her to go see him. While Daisuke is still angry that she didn't come before, his pitching ends up being horrible until Love suddenly shows to scold him. The rest of the match went fine and in the end it was up to Daisuke if the team wins or not. He tried his best, but they lost 5:4.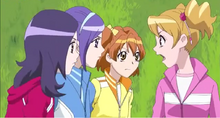 Hayato was watching it all and created Nakewameke from baseball pitching machine.  Love got joined by others and they all transformed to Pretty Cure. The girls tried fighting when Peach got an idea and told Berry to change their outfits into baseball uniforms. They play four times, with the Cures striking the ball perfectly each time and making the Nakewameke be out as a result. Then they threw away their outfits and defeated Nakewameke with Quadrupedal Fresh.  Later Daisuke told Cure Peach that Love is missing and she assures him that she's safe. He tells her of his plans to apologize to her.
Next day both of them apologized each other. They wanted to be friends again, but when they pressed their hands to make up, Daisuke got all red and got his hand away. He told Love, that Cure Peach is great and Love should be more like her. Then Love said Daisuke should be cooler like Miyuki, causing them to start arguing again while Setsuna remarks on how how fun they're having.
Characters
Cures
Mascots
Villains
Secondary Characters
Gallery
Ad blocker interference detected!
Wikia is a free-to-use site that makes money from advertising. We have a modified experience for viewers using ad blockers

Wikia is not accessible if you've made further modifications. Remove the custom ad blocker rule(s) and the page will load as expected.