The End of Eas! Cure Passion is Born!! (イースの最期! キュアパッション誕生!! , "Īsu no Saigo! Kyua Passhon Tanjō!!"?) is the 23rd episode of Fresh Pretty Cure! and also the 265th episode of the Pretty Cure franchise overall.
Synopsis
Love deals with the betrayal of Setsuna and learning her true identity. Meanwhile, Eas deals with knowing her life will be ending - now that she has failed and used up all of her Nakisakebe cards.
Summary
The episode begins with a flashback of the previous episode when Setsuna revealed to Love that she was actually Eas and told her she only tried to befriend Love to steal her Linkrun.
In her bedroom, Love cries and Inori and Miki come to try to cheer her up. There, they meet Tarte and Chiffon outside of Love's room and they explain that they were kicked out because Love wanted to be left alone. Miki and Inori get into her room and attempt to explain that Stsuna was always an enemy, and not a real friend. As of hearing this Love tells Miki that this isn't true and runs off. Right away they all go to look for her.
Love heads to Kaoru's Donut Cafe and talks with him. She gets some advice and takes off for the Fortune Telling Mansion, where she originally met Setsuna and believes her to be there. She finds her at the forest and Setsuna demands they fight.
As they look for her, Miki, Inori, Chiffon, and Tarte end up meeting a Soba selling man and directs them to where he last saw her heading to. They reach the same forest and head inside to find her.
When they reach the forest, Soular and Westar conceal the fortune telling mansion with trees. They find Peach and Eas and offer to help her - but Peach refuses and tells them the battle is only between them.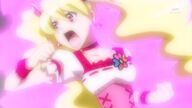 In their struggle, they continue to churn out the same moves at the same times (punch to punch and kick to kick). During this battle Eas remembers a given message from
Moebius
conveyed through
Klein
to her, informing her that her life span has been shortened and she is due to die later that day. Peach and Eas deliver one final attack, in which they both give off a pink and red light before falling. Eas then says that after this harsh battle, she feels at ease. Miki says that is because she finally understands Love's true feelings. Then Eas spots a four leaf clover, remembers the clover pendant Love gave to her previously (
FPC07
). Peach tells her that only someone that truly wants happiness can spot a four leaf clover.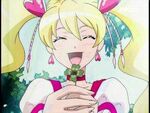 Peach picked the four leaf clover and offered it to Eas as a symbol of friendship. Just as she was about to take it Eas' life span ended and she fell dead. Suddenly, a red light started to glow from Chiffon's forehead.
Akarun
then appeared to save Setsuna and takes a moment to speak to her through a seperated universe. She explains how she is a fairy of Pretty Cure and plans to make her the Cure of Happiness, Cure Passion.
Shocked, Love, Miki, Inori, and Tarte watch as Setsuna changes into the fourth cure. However, she is quick to reject it saying she's caused too much pain. Then she takes off.
Major Events
Eas is permanently changed into Setsuna and becomes Cure Passion thanks to Akarun.
Fresh Pretty Cure has found all four members. However, Passion refuses to join the rest of the Cures because she feels guilty.
Characters
Cures
Mascots
Villains
Secondary Characters
Trivia
In the manga counterpart of this episode, Eas was naked while looking at Akarun but in the anime version, Eas is given a glowing red body while talking to Akarun.
Gallery
Ad blocker interference detected!
Wikia is a free-to-use site that makes money from advertising. We have a modified experience for viewers using ad blockers

Wikia is not accessible if you've made further modifications. Remove the custom ad blocker rule(s) and the page will load as expected.