FPC02
Talk

0
1,177pages on
this wiki
"Freshly-Gathered Fresh! Cure Berry is Born!!"
(

つみたてフレッシュ!キュアベリー誕生!!

Tsumitate Furesshu! Kyua Berī Tanjō!!

?

)
is the second episode of the season
Fresh Pretty Cure
the sixth season in the Pretty Cure franchise. Literally
"Freshly-Gathered Fresh! Cure Berry is Born!!". 
The episode focuses the story of
Aono Miki
transforming into Cure Berry.
Aono Miki goes on her usual daily routine of jogging in the morning, before proceeding to have a heavy breakfast, and then make preparations for the day ahead. Love wakes up to find
Tarte
and
Chiffon
in her room, bewildered by Chiffon's psychic abilities and a ferret that spoke in Kansai dialect. Once she calmed down, Tarte told her about the parallel worlds, the legendary Pretty Cure, which there were three more to find, and
Labyrinth
, an organisation whose aim was to revive Infinity through gathering sorrow from humans. Love's mother then came in unexpectedly to remind Love of her dancing lessons with 
Miyuki
.
On her way, Love happens to meet Inori walki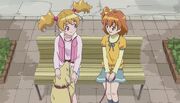 ng a dog. Love tried to persuade Inori to join her in Miyuki's dancing lessons, but Inori felt that she was not qualified to do so. Love encouraged her that Inori had the potential to dance well, and hurried on to tell Miki about the dance lessons. Upon entering Miki's house, Love finds out that Miki had already gone out on a 'date' with her boyfriend, and that Miki's mother was at home.
Miki's mother requested that Love would be a mod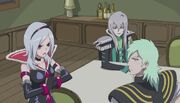 el for her to try out different hairstyles on. Love then decided to text Miki, providing Miki the opportunity to join the dancing lessons. Eas was also not in a good mood because of a Pretty Cure making her plans fail. As she went away talking to Westar and Soular about the other plan they accepted, then she was going to make the plan harder.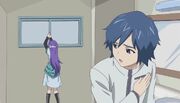 Eas appeared near the Clover restaurant that Miki and her fake boyfriend who is really her younger brother,
Ichijo Kazuki
were in, and summoned a vending machine 
Nakewameke
, splashing and spraying fizzy juices of different flavours. The monster ended up rampaging near the restaurant and flooded it with orange juice. Miki and her fake boyfriend were forced to flee to the bathroom, where her brother started becoming weak, due to his current illness. Miki blocked the door with heavy objects to prevent the juice from flooding in, and tried to force open the window in the bathroom in order for them to escape.
She refused to let her boyfriend drown and put hi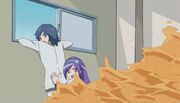 m above herself. She helped him escape through the window, but she was about to drown in the orange juice that had now forced open the door and flooded the room. Love, who's hair was redone into an afro, realised that she was already late for her dancing lessons and rushed out of the salon. Tarte, holding Chiffon on his back, went with Love to pursue the Nakewameke. Chiffon's forehead glowed blue, which then triggered the Blurun, that had been observing Miki since the morning, to enter Miki's cellphone.
A blue barrier cleared off the juice around Miki, an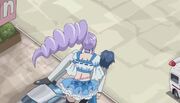 d her cellphone was changed into a Linkrun, and then transformed, with the Linkrun, into Cure Berry. Cure Berry carried her sickly boyfriend and handed him to two nearby police officers, and headed in the direction of the Nakewameke to ward it off. Love arrived soon and transformed to help fight the Nakewameke with Cure Berry, where Cure Berry purified the monster with
Espoir Shower
.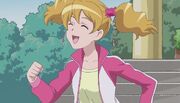 Love became excited that Miki also became a Pretty Cure, as well as Miki being able to join Love in her dancing lessons. From a distance, Inori was wistfully watching the two of them dancing with Miyuki.
Major Events

Edit
Characters

Edit