Doki Doki! Pretty Cure: Mana is Getting Married!!? The Dress of Hope that Connects to the Future (映画ドキドキ!プリキュア: マナ結婚!!?未来につなぐ希望のドレス, Dokidoki! Purikyua: Mana Kekkon!!? Mirai ni Tsunagu Kibō no Dress?) is the 15th Pretty Cure movie produced by Toei Animation. The movie was released in Japanese cinemas on October 26, 2013.
Summary
One day, Aida Mana received a wedding dress from her mother and grandmother that they had worn in the past. While thinking about who she would wear this besides someday herself, a mysterious man named Marsh appears, and Mana is thrown back into the past. She was happy to see her grandmother she loved and her old dog Maro, but she then realizes that Alice, Rikka and Makoto are not there because their memories have been altered. In order to save precious memories, the future, dreams, and hope, Mana transforms into Cure Heart.
Synopsis
Characters
Pretty Cures
Mascots
Movie-Only Characters
Others
Trivia
This is the second instance in the Pretty Cure franchise, after Heartcatch Pretty Cure! episode 20, that shows blood. In one scene where Cure Heart is attacked, she is bleeding when Maro bites her.
There are small differences and errors in the scene where everyone is clapping for Mana who had just been married between the trailers and the movie itself:

Rikka, Alice and Makoto wear the dress they had in the opening. Rikka's hair is down and she is wearing a long-sleeved blue dress, Alice has the same hairstyle from before and is wearing a long-sleeved dress similar to Rikka's, and Makoto is wearing a purple dress with white long-sleeves and her hair is shoulder-length. But in the movie, Rikka's hair is in a ponytail and she is wearing a blue dress with a small blue jacket, Alice has her hair in low curled bun-like pigtails and is wearing a yellow dress covered in transparent silk, Makoto has the same short hair (not shoulder length) and is wearing a pink hair clip and a long-sleeved purple dress.
Aguri wasn't shown at all in the trailers. She is placed on the right side of Rikka in the scene, wearing a red dress and red silk with much shorter hair. The reason why she was not in the trailers is because they came out before her debut.
Yuuzou's hair color was pink and his skin was darker. These get fixed in the movie.
Sebastian didn't wear his gloves. He wears them in the movie.
Davi gets replaced by Yashima. She wears a black one-piece dress underneath a red cardigan.
There are no lighting during the scene. The trailers had sunlight shining above the crowd.

It is the third Pretty Cure movie to have CGI in the final battle scene, after Fresh Pretty Cure!: Omocha no Kuni wa Himitsu ga Ippai!? and Pretty Cure All Stars DX 2: Kibou no Hikari - Rainbow Jewel o Mamore!.
This is the second Pretty Cure movie to show the lead Cure (Cures in this case) as children.

This is also the only Pretty Cure movie to show a Pretty Cure as a baby.
Gallery
Official Art

Profiles

Official Pamphlet

Other Scans

Screenshots
Video
Movie Trailers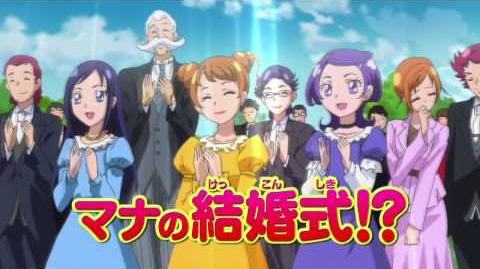 External Links
Ad blocker interference detected!
Wikia is a free-to-use site that makes money from advertising. We have a modified experience for viewers using ad blockers

Wikia is not accessible if you've made further modifications. Remove the custom ad blocker rule(s) and the page will load as expected.