Mofurun noticed that this article lacks content or has faulty grammar and information.
She says you can help by
editing
this stub!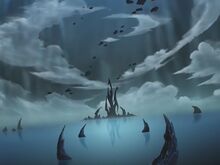 Dark Fall (ダークフォール, Dāku Fōru?) - is a parallel world, a dimension of evil that encroached on the spirit world, Land of Fountains and the home place of all villains from Futari wa Pretty Cure Splash Star. Dark Fall can be reached from the Land of Greenery by the Dark Slough. Giant Akudaikan is a ruler of this place and the leader of "Dark Fall" organization. When it is first seen Akudaikan is shown sitting on a giant throne in the middle of a lake inside a cave. Later it is shown that Goyan has a separate house in a different area out side the cave surrounded by an ocean. The main tower stands alone in the water. It has a path from the entrance into the cave at the main tower. Akudaikaan and Goyan live in this cave.
History
The "Dark Fall" consists of the corrupted rulers from each of the worlds making up the Land of Fountains. Each of the fountains were destroyed by Goyan and Akudikan. As the fountains were destroyed each of the guards of the fountains were taken to be part of the Dark Fall. During this process The Dark Fall was trying to get to the Fountain of Sun, as that was the fountain in which the Sky Tree perceived most of it's power from. Without the Sky Tree the world would be in seemingly darkness. But when the World of the Spirits sent Flappy and Choppy to Earth to find the Pretty Cures the Dark Fall set out to not let that happen. Once Flappy and Choppy found the Pretty Cure the Dark Fall would soon send it's minion's to defeat them. One by one failing. It was only until the Fairy Charafe was stolen and each of the minions were revived that the Dark Fall came back. Pretty Cure managed to defeat all the the subordinates and soon made their way to Akudaikan. It soon turned out that Goyan had actually created Akudaikan for the purpose of re-gaining power until the time when Pretty Cure had to fight him. With the revived and purified Michiru and Kaoru, Pretty Cure used Spiral Heart Splash Star to defeat Goyan. With it Goyan was defeated and the Dark Fall became defunct.
Characters
Minions
Uzaina The physical form of the Dark Fall's power. Uzainaas are monsters created from fusion of an object and a Miracle Droplet corrupted by the Dark Fall. Upon their defeat, elemental spirits are released to thank Pretty Cure.
Trivia
This is the first group of villians with the theme of elements.
This is the first group of villains to have some members who were originally good followed by Trio de Minor.
Gallery