To My Most Important Person! Aguri's Class Visit! (たいせつな人へ!亜久里の授業参観!, Taisetsu na Hito e! Aguri no Jugyō Sankan!?) is the 43rd episode of Doki Doki! Pretty Cure series and the 480th episode of the Pretty Cure franchise overall.
Synopsis
While fighting the Jikochuu, Mari discovered Aguri identities and makes her shock. When she returned home, Mari tell her everything that day where they met. She found Aguri as a baby, when the Jikochuu almost harm them, the light at Aguri and grow to 10 years old and the mysterious voice asked her to look after Aguri.
After explaining the stories, she found that Aguri ran away and been spotted by the Cures and start crying. Aguri tells them that her grandmother know everything and Mana was called by Mari said tomorrow is Aguri's school visiting so Mana allowed Aguri to stay at home as pyjama party.
In the school, Aguri wish her luck and enter the class. Her teachers said the students must draw their family who is important to them, as Aguri become depressed, her grandmother arrived to comfort her and start drawing.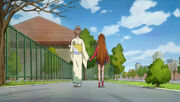 Later, Regina arrived and create a eraser Jikochuu to erase everything around the school and stopped by the Cures. Just as the Cures about to defeat the Jikochuu, Regina ordered the Jikochuu to erase all the drawing that the students drawn, Ace must take all the drawing and her drawing was erased, making her sad. Mari stands up for her and their body glowing, then they defeat Jikochuu together, making Regina take her leave. Aguri becoming happy that she can stay with grandmother and go back home.
Characters
Cures
Mascots
Secondary
Villain
Major event
Mari discovers the Cures' identities
It was revealed that Aguri was found by Mari when she was a baby
Aguri's school has class visiting
Trivia
This episode is similar to SPC40 because the youngest Cures were visited by grandparents
Gallery