Cure Sticks
Talk

0
1,179pages on
this wiki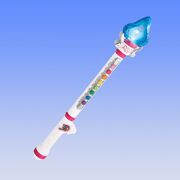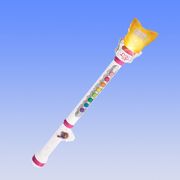 The
Cure Sticks
(

キュアスティック

Kyua Sutikku

?

)
are devices in
Fresh Pretty Cure!
that are used to power-up the
Pretty Cure
's attacks to their Fresh versions. When a
Pickrun
is used with a
Linkrun
, the reaction summons the Cure Stick. The names of these Cure Sticks are as follows:
Summoning incantations
Edit
Peach Rod: "Reach, Melody of Love! Cure Stick, Peach Rod!" (届け、愛のメロディー!キュアスティックピーチロッド!, Todoke, ai no merodii. Kyua Sutikku, Piichi Roddo!?)
Berry Sword: "Resonate, Rhythm of Hope! Cure Stick, Berry Sword!" (響け、希望のリズム!キュアスティック 、ベリーソード, Hibike, kibou no rizumu! Kyua Sutikku, Berii Soodo!?)
Pine Flute: "Heal, Harmony of Prayers! Cure Stick, Pine Flute" (癒せ、祈りのハーモニー!キュアスティック、パインフルート!, Iyase, inori no haamonii! Kyua Sutikku, Pain Furuuto!?)
Passion Harp: "Sing, Rhapsody of Happiness! Passion Harp!" (歌え、幸せのラプソディー!パッションハープ!, Utae, shiawase no rapusodii! Passhon Haapu!?)
Pine and Passion's Cure Sticks are both based off of instruments (flute and harp, respectively).
Peach and Berry's Cure Sticks are based off of sports items (baton and sword, respectively)
Passion's Cure Stick is the only one that does not look remotely like a stick. It also uses different way to be activated, making people wonder whenever it is a real Cure Stick or not.
Berry's Cure Stick is officially a sword, making some fans wonder if it can be used in combat as well.
Cure Passion is the only one who does not form her symbol, the club, with her Cure Stick. Instead, she forms a heart, just like Cure Peach.