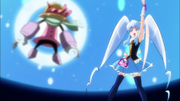 Blue Happy Shoot (ブルーハッピーシュート, Burū Happī Shūto?) is Cure Princess' first finisher, first used in episode 2. In order to use this attack, she needs the LovePreBrace.
Incantation
Japanese
Cure Princess: 勇気の光を聖なる力に、ラブプリブレス!
Cure Princess: プリキュア、 ブルーハッピーシュート!
Cure Princess: 勇気よ、天に帰れ!
Romanized
Cure Princess: Yuuki no hikari wo seinaru chikara e, RabuPuriBuresu!
Cure Princess: Purikyua, Burū Happī Shūto!
Cure Princess: Yūki o, ten ni kaere!
English
Cure Princess: Light of courage become holy might, LovePreBrace!
Cure Princess: Pretty Cure, Blue Happy Shoot!
Cure Princess: Courage, return to heavens!
Trivia
This is the second attack with the word "Blue" in it, the first being Blue Forte Wave. It is also the third attack with the word "Happy" and the sixth with the word "Shoot."
Gallery
Video
Ad blocker interference detected!
Wikia is a free-to-use site that makes money from advertising. We have a modified experience for viewers using ad blockers

Wikia is not accessible if you've made further modifications. Remove the custom ad blocker rule(s) and the page will load as expected.