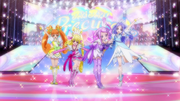 Beyond the Sky (この空の向, Kono Sora no Mukō?) is the first ending song for the Doki Doki! Pretty Cure series. It started airing from episode 1 and was replaced by Love Link in episode 27.
The song later appears in, Doki Doki! Pretty Cure Original Soundtrack 1: Pretty Cure Sound Love Link! and it is remixed into a Heartful Instrumental.
Lyrics
TV Size Version
Full Version
Trivia
Cure Sword is the only one of the Cures shown wearing the Lovely Income and mouthing the song the whole way through, indicating her status as an idol. Despite this, it is not her voice actress, Miyamoto Kanako, who performs the song.
The stage the Cures dance on is exactly the same as the one in Pretty Cure All Stars DX: 3D Theatre.
On the ending, the line "Naniman kounensaki wa tooi mirai janai" is accompanied by a rather silly-looking part of the choreography, as the camera focuses on Cure Diamond. This led many members of the Pretty Cure fanbase on Tumblr to erroneously assume that Rikka is a bad dancer, which led to the creation of the "Rikka dancing" meme.
An instrumental of this song is heard being played in episode 44 of DokiDoki Pretty Cure.
This ending is used for the first ending of Glitter Force Doki Doki but is edited with repeated shots of the Cures dancing and other parts edited out completely.
Video
Gallery
Ad blocker interference detected!
Wikia is a free-to-use site that makes money from advertising. We have a modified experience for viewers using ad blockers

Wikia is not accessible if you've made further modifications. Remove the custom ad blocker rule(s) and the page will load as expected.